Tenutex® is the agent used primarily in the treatment of scabies¹
Tenutex® is a prescription free drug that is active against Scabies, head lice and Pubic lice (crabs). Tenutex® cutaneous emulsion is available in a tube of 100g at your pharmacy (located in the fridge).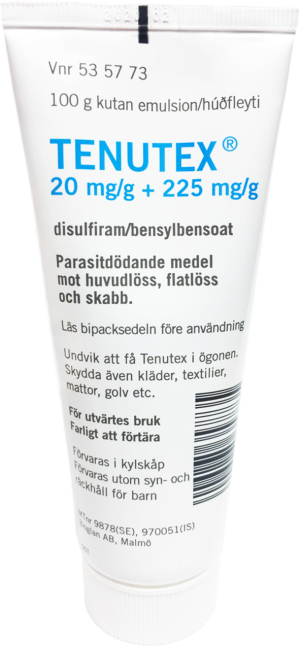 Please note that the doctor may have prescribed the drug for other usage and / or with a different dosage than stated in the leaflet. Always follow your doctor's recommendations and instructions on the label of the medicine package.
Treatment for Scabies with Tenutex®
1. Do a thorough body wash. Dry the body well.
2. Rub Tenutex® (50-60 g) thoroughly on to the entire body – except the head. Only on infants the head needs to be treated. Avoid getting Tenutex® in your eyes. Avoid excessive rubbing. In heavily infected cases, a repeated treatment with Tenutex® is needed after 1 week. NOTE: Do not forget to lubricate the soles of the feet and between toes and fingers. Every square millimeter of the body must be covered with the ointment for 24 hours.
3. Wait 24 hours with all bodily washes. When washing dishes or doing other wet work, use rubber gloves which are discarded afterwards. Lube the hands with Tenutex® after the wet work and after each hand wash.
4. Wash your body thoroughly 24 hours after the treatment. Replace all the clothing closest to your body, change bedding, all towels, bath towels, etc. Used clothes are washed or aired for 3-5 days. Do not forget to air shoes, gloves, wash robes, work clothes, gym clothes, etc.
FAQ
What is Tenutex® used for?
Parasite killing remedy for Head lice, Pubic lice and Scabies.
Do I need a prescription to purchase Tenutex®?
No.
When should Tenutex® not be used?
Tenutex® should not be used by those who are allergic to organic sulfur compounds in vulcanized rubber.
Where can I buy Tenutex®?
At your local pharmacy. Since Tenutex® is a product stored in the cold, ask the staff for Tenutex®.
Other points to consider
Tenutex® can cause a yellow coloration or a persistent smell on certain textiles. Therefore, always use non-tender clothing and textiles in relation to a treatment.
Stain removal guidance: The stain should be treated as soon as possible, which can be done on a suggestion as follows:
1. Short soaking in grease solvent, if the material allows it.
2. Squeeze the garment in detergent solution.
3. Wash with detergent in the usual manner, preferably in a machine.
Pregnancy
Limited experience of usage during pregnancy. Therefore, ask your doctor for treatment other than regarding Head lice.
Breastfeeding
Unknown if Tenutex® passes on to the breast milk. Therefore, ask your doctor for treatment other than regarding Head lice.
For scabies should you also lubricate the glans and labium's?
Yes, scabies is most likely to be seen on the inside of the wrists, between fingers and on men also on their penis. On women the scabies-tunnels are most likely to be seen on the breast areola and on children at the soles of their feet.
What does Tenutex® contain?
100 ml of cutaneous emulsion contains: Active substances: Disulfiram 2g, benzyl benzoate 22.5 g.
Other: cocoa butter, stearic acid, trolamin, cetostearyl alcohol, eucalyptus oil, water.
Page last edited 20160104.